(Last Updated On: December 15, 2022)
For humans, coconut oil has been favorite for a long time as a health supplement and used for cooking.
Apart from applying as homemade toothpaste and deodorant ingredient, it's beneficial to boost the immune system, aid in weight loss, work as an anti-inflammatory and anti-fungal, improve cognitive skills.
However, how about coconut oil for dogs? Is it safe for your dog?
Related Topic:Best fish oils for your dog
Best Coconut Oil for Dogs 2020
Image
Details
Prime
Check Price on Amazon
Zesty Paws Coconut Oil for Dogs - Certified Organic & Extra Virgin Superfood Supplement - Anti Itch & Hot Spot Treatment - for Dry Skin on Elbows & Nose - Natural Digestive & Immune Support - 16 OZ

Prime

Eligible

Check Price on Amazon
Coconut Oil for Dogs Alpha Pet Zone, 16 Ounce Jar, Treatment for Itchy Skin, Dry Elbows, Paws and Nose

Prime

Eligible

Check Price on Amazon
Raw Paws Organic Coconut Oil for Dogs & Cats, 4-oz - Treatment for Itchy Skin, Dry Nose, Paws, Elbows, Hot Spot Lotion for Dogs, Natural Hairball Remedy for Dogs & Cats, Flea Tick Prevention for Dogs

Prime

Eligible

Check Price on Amazon
LEGITPET Wild Alaskan Salmon Oil for Dogs & Cats - Pure Fish Omega 3 6 9 Liquid Fatty Acids - Skin & Coat Supplement - Supports Joint Function, Immune & Heart Health 8 oz

Prime

Eligible

Check Price on Amazon
Allergy Immune Supplement for Dogs Lamb- with Omega 3 Wild Alaskan Salmon Fish Oil & EpiCor + Digestive Prebiotics & Probiotics - Anti Itch & Skin Hot Spots + Seasonal Allergies - 90 Chews

Prime

Eligible

Check Price on Amazon
PURA D'OR Carrier Oil: Organic Fractionated Coconut Oil 16 oz - USDA Certified Organic 100% Pure & Natural Hexane Free Moisturizing Carrier Oil For Face, Skin, and Hair

Prime

Eligible

Check Price on Amazon
Is coconut oil good and safe for your dog?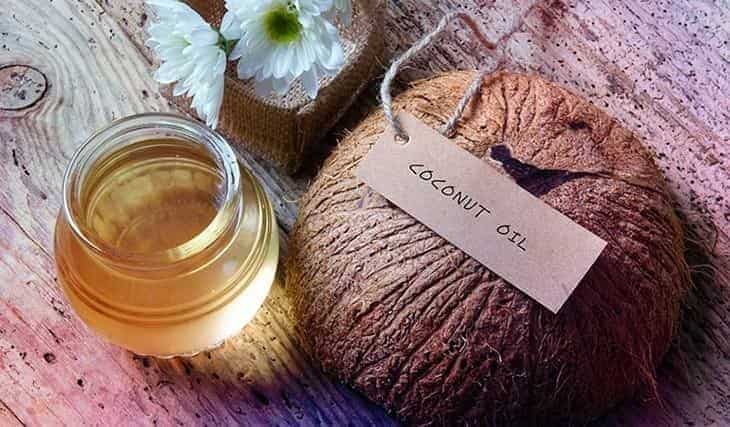 Both answers to these questions are yes. Coconut oil is excellent and safe for your dog. Specifically, it can aid the digestion of your dog, improve its coat as well as prevent infection. However, following a proper guideline is really important. If not, it can lead to adverse effects.
What is coconut oil?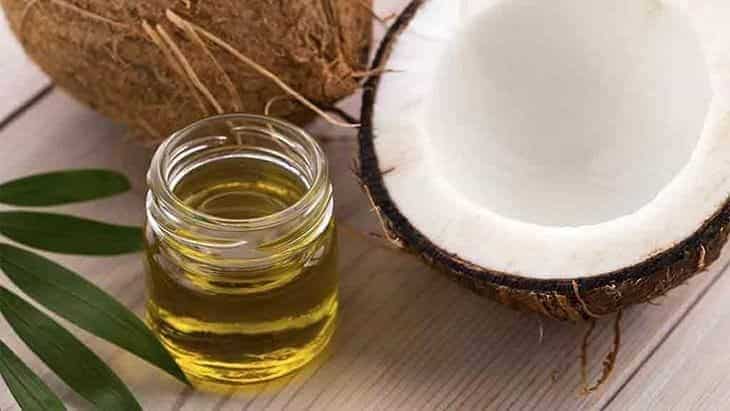 After being extracted from mature coconuts, coconut oil has the form of a kind of edible oil. With the high content of the medium-chain triglycerides and saturated fat, it's applied to food recipes and beauty tips.
64% of coconut oil is Medium Chain Fatty Acids (MCFAs) which is broken down further. Specifically, 48% of MCFAs is lauric acid, 8% caprylic acid, and 7% palmitic acids, plus myristic, capric acid. Besides, there are 2% of polyunsaturated fatty acids (linoleic acid) and 6% of monounsaturated fatty acids (oleic acid).
Related Topic: Can dogs eat olive oil?
Lauric acid has antifungal, antiviral, and antibacterial properties while caprylic and capric acid has antifungal effects. Moreover, when consuming coconut oil, the body will metabolize MCFAs into an immediate source of energy and fuel to maximize athletic performance and help weight loss efficiently.
What are the benefits of coconut oil for dogs?
Before anything else, please take a look at the video below:
As mentioned, coconut oil has many benefits for dogs. They include what I list below:
Healthy skin and coat:
Clears up eczema
Improves the skin conditions such as dry skin, itchy, stings, bites and hot spots. For example, shampoos made from coconut oil (DIY paw balm with coconut oil) can improve damaged skin as well as reduce allergens
Cures and keeps your dog away from yeast and fungal infections
Heals the wounds
Makes the coat of your dog glossier and sleeker
Gets rid of the doggy odor
Removes hairballs
Improve digestion:
Increases the nutrient absorption
Supports to treat digestive disorders like colitis and inflammatory bowel syndrome
Kills or expels parasites
Reduces or gets rid of bad breath
Immune system:
Reduces the risk of cancer
Endocrine or metabolic system:
Regulates and balances insulin which can control even keep your body away from diabetes
Improves the function of the normal thyroid
Musculoskeletal system:
Supports a system of the stronger bones
Lessens inflammation and minimizes the arthritis discomfort as low as possible
Others:
Maximizes the functions of brain and nerve to prevent dementia
Supports your oral health as well as clean your teeth
Minimizes coughing
How to use coconut oils for your dog: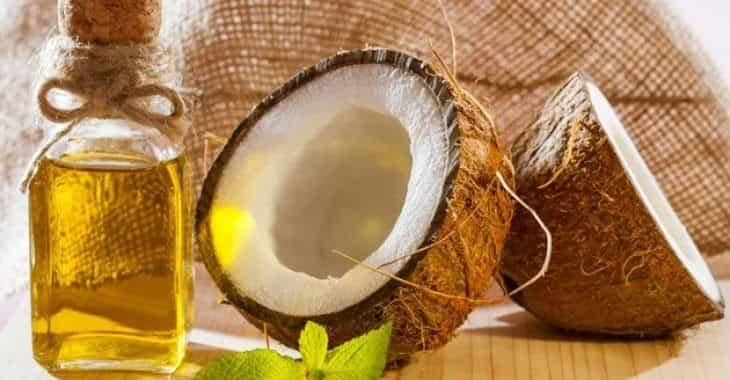 Can you give your dog coconut oil? The answer is yes. However, how much should you give it? Generally, you can give your dogs 1 – 2 times with its meals every day.
See Also: Can dogs eat sardines?
However, the specific amount will depend on the size of each dog. For example, when it comes to obese dogs, never allow it to consume coconut oil more than once per day.
If you want to take your dog coconut oil orally, remember to begin with a small amount then increase the dosage gradually because the body of your dog needs time to adjust themselves.
Yet, I strongly recommend you refer to the advice of your vet in advance. With the use of coconut oil for dogs wrongly, there may be the appearances of side effects like diarrhea or greasy stools, normally because you let your dog consume a significant amount.
When it comes to the topical use of coconut oil, you should apply on the surface of the skin and do this one a week to have the best result. Let it absorb within at least 5 minutes before rinsing your dog off. If rinsing can't get rid of all excessive greasy and oily amount, take it a shower with a light shampoo or a kind of shampoo made from organic coconut oil.
If your dog is in obesity, has pancreatitis, or metabolizes fat ineffectively, consulting your vet is a must.
In the beginning period, the proper dosage is ¼ tsp/ day for puppies or small dogs while applying one tsp for big dogs.
After your dog has adjusted coconut oil, the optimal dose should be one tsp for a 10 – 30 pounds puppy
How to choose coconut oil for your dog:
You had better buy the kind of the (extra) virgin coconut oil (unrefined coconut oil). However, it's better if you choose cold-pressed oil because, after harvesting, people will process this oil type quickly to preserve nutrients.
To pick up coconut oil which your dog loves, you also need to consider its preference since the coconut oils vary tastes and smells such as buttery and nutty tastes. For instance, some come with a bland taste while others are bold. This process may take time, so you must be patient to try many times.
Other forms of coconut oils:
Although on the market, you can easily find out coconut oil, there are also other forms of coconut oils you can take from such as coconut meat, coconut milk, and coconut water. Learn the details below:
Coconut meat:
If you buy a whole coconut, don't waste its coconut meat in the bin. Rather than, why don't you feed your dog a piece of coconut meat? However, you need to make sure what you let your dog eat is free of sweetening.
Basically, a cup of the fresh shredded coconut has about two tablespoons while one cup of the dried shredded coconut contains around 3.5 tsp of coconut oil.
Coconut milk: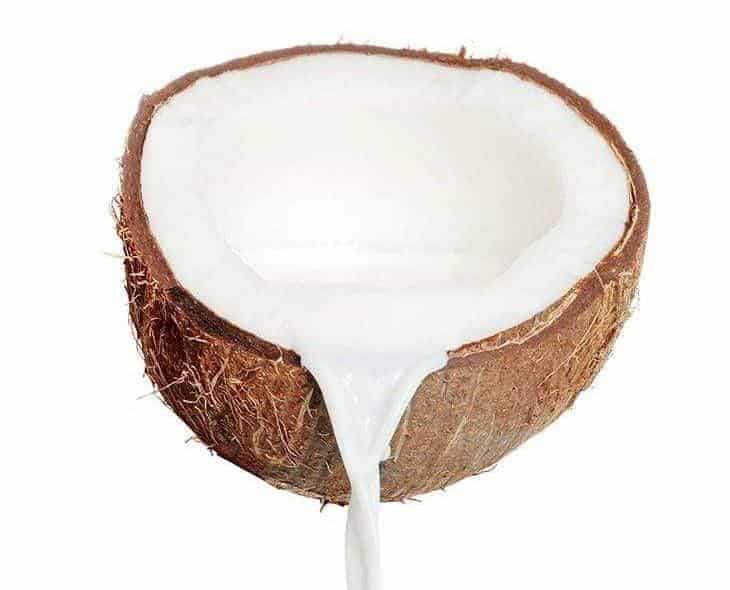 If you want to feed your dog coconut oil, this is also an ideal method. A 14-oz can provides about five tbsp of coconut oil. However, some kinds of coconut milk available in stores are unallowable, products with additives like emulsifiers, preservatives, and sugar, for example.
What's more, you also shouldn't let your dog drink cartons of coconut milk because most of the refrigerated and dairy products in stores contains more added water and sugar in place of actual coconut milk.
Coconut water: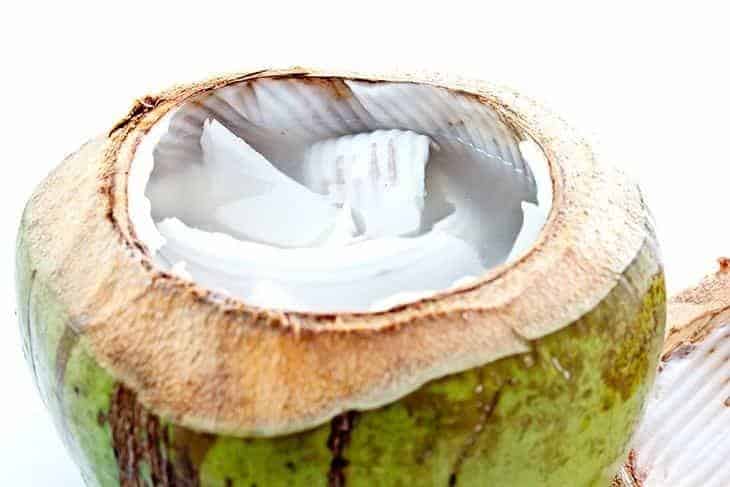 For coconut water, you can let your dog consume frequently. But, you have to ensure the product you choose isn't added chemicals or sugar. This is also known as an excellent source of electrolytes. Furthermore, coconut water can re-hydrate the dog on the overheated days of summer.
Coconut oil alternatives for your dog: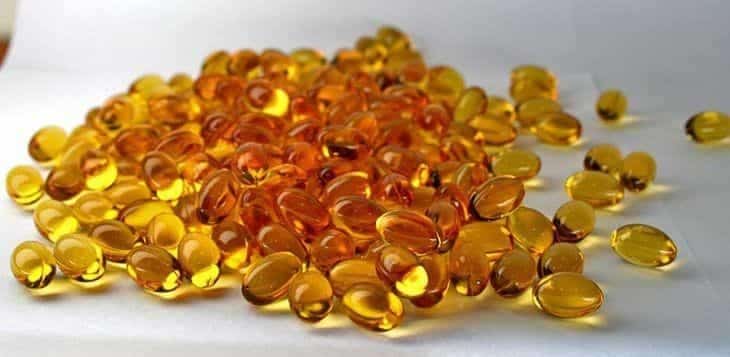 In case your dog is allergic to coconut oil, or merely you just want more exciting improvements to add coconut oil to the diet of your dog, you can consider the following alternatives.
The cold water fish oils (salmon oil) and flaxseed oil are the excellent sources of the omega-3 fatty acids which will offer your dog the similar benefits of coconut oil. Apparently, whether you feed your dog coconut oil or these supplements, you must monitor the intake and consult your veterinarian because what you let it consume can directly or indirectly influence its overall health.
Related Topic:Hearthworm Prevention for dogs
The final thoughts:
Generally, coconut oil is excellent and safe for your dog, if you know how to feed it properly. Coconut oil is extracted from mature coconuts and comes in the form of edible oil. The contents of this oil type include the saturated fat and the medium-chain triglycerides which can provide many benefits for your dog.
Coconut oil can keep the skin and coat of your dog healthier and smoother even improve its digestion as well as possible. In particular, it's beneficial for the immune system and musculoskeletal system as well as other parts such as the brain, eyes, ears, and mouth.
Pay attention that how to apply coconut oil for your dog can also influence the end. Do you want your dog has the best result or side effects of coconut oil? To make sure everything is okay, let you follow this rule: start with a small amount after that increase the dosage gradually. Moreover, it's essential to refer advice of your veterinarian.
I highly recommend you choose the (extra) virgin coconut oil (unrefined coconut oil) or the cold-pressed oil. However, there are also some coconut oil alternatives such as the cold water fish oils (salmon oil) and flaxseed oil. Or you can consider a few forms of coconut oil: coconut meat, coconut milk, coconut water.
Do you have any questions about coconut oil for dogs? Don't hesitate to leave a comment in the section below. I'm willing to answer all.